Edesia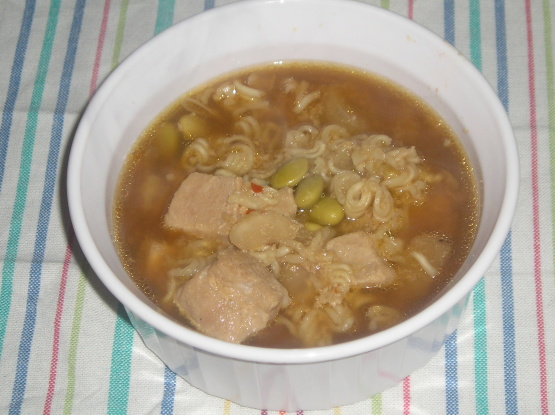 Pretty tasty soup and something different. I found this online courtesy of Better Homes and Gardens. I am estimating prep time and serving size.

My husband and I really like this. I used 2 - 1 lb. pieces of pork roast, cooked in the crock pot for about 6 hours, and then used two forks to shred. You can buy edamame shelled in grocery freezer sections. Omitted the water chestnuts and ramen noodles. Also, we thought it was better after the first day.
Trim fat from meat. Cut meat into 1-inch pieces. In a large skillet brown meat, half at a time, in hot oil. Drain off fat.
Place meat in a 3-1/2- or 4 -1/2-quart slow cooker. Stir in chicken broth, edamame, water chestnuts, sweet pepper, soy sauce, hoisin sauce, ginger, crushed red pepper, and garlic.
Cover and cook on low-heat setting for 7 to 8 hours or on high-heat setting for 3 1/2 to 4 hours. Skim off fat. Stir in ramen noodles (reserve seasoning packet for another use). Cover and cook for 5 minutes more.