Pork and Bok Choy Stir Fry
Derek G.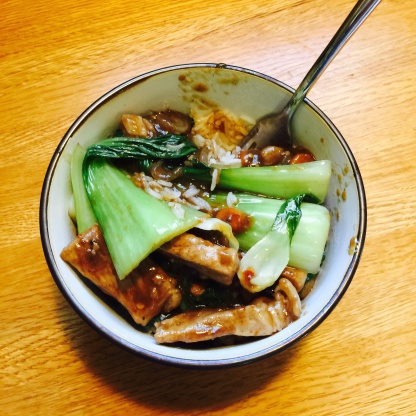 I was very excited when this recipe of mine got "runner up" status in one of Taste of Home's Light & Tasty's contests in 2004. It's a great and easy recipe to prepare. Serve over rice or noodles.

This was very good, I am not surprised you got runner up you should of got first. I used fresh ginger because I had it, and left my bok choy in quarters and laid it on top to wilt then took it out and put the sauce mix in. I served it with rice noodles, it had a very nice flavour and the meat was so tender. I also added a wee bit more water to make more sauce we like it saucy too. A very nice dish made in no time. Thanks for posting. Made for ZWT#6 2010
In a mixing bowl, combine cornstarch and sugar. Stir in white wine and soy sauce until smooth; set aside.
In a large nonstick skillet or wok, stir fry pork in canola oil until lightly browned. Add carrots, garlic and ginger; stir-fry for 2 minutes.
Add bok choy to skillet and stir-fry until bok choy is wilted.
Stir soy sauce mixture and add to skillet. Bring to a boil; cook and stir 2 minutes or until sauce is thickened.
Serve with rice or noodles.