Pork and Bean Minestrone Soup
ErikaNY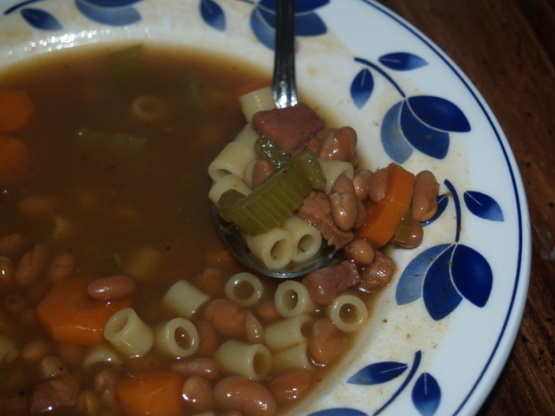 A quick an easy soup to make on a busy day using canned pork and beans and leftover cooked ham. Substitute crispy well-drained bacon bits or other cooked meat for the ham if you like. Use any small macaroni you have on hand, and adjust the seasonings to your taste. Serve with thick crusty bread and butter, either plain or spread with garlic butter All-Purpose Herbed Butter and toasted under the broiler.

I love bean soups but must admit I'd never have thought to use a can of pork & beans, but it does work beautifully, especially with the added ham! Pretty much followed the recipe right on down & I now have another great recipe for soup for the coming cool months! Thanks for sharing this one! [Tagged & made in Please Review My Recipe]
Combine beef broth, cooked ham or other cooked meat, onion, carrot, celery, thyme and oregano in a large saucepan.
Bring to a boil.
Stir in raw macaroni.
Reduce heat to a simmer.
Simmer, uncovered, for 20 minutes, stirring occasionally, until macaroni is tender.
Add pork and beans and heat thoroughly.
Add additional liquid if necessary. (I use the water drained from boiling potatoes for making soups, gravies, sauces or use canned broth).