Peter J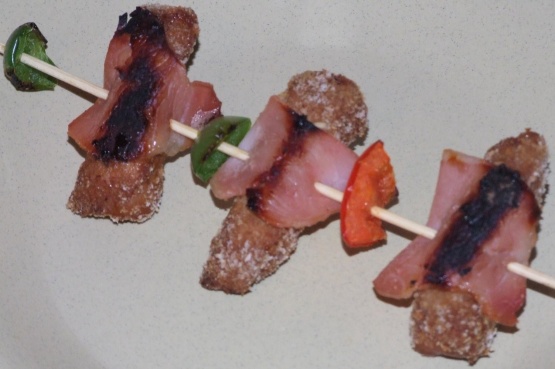 These are great at BBQ's and the smell as they cook is mouth-watering.

Great idea Dale! The small local supermarket I went to didn't have any pork schnitzels so I diced up some pork butterfly loins instead and made some Marinated and Crumbed Pork Schnitzel (Recipe #128745). I served with some honeyed prawns (recipe #95360) on skewers and the two complemented each other nicely. Would also be good with some pineapple pieces in between.
4

large long fillets pork schnitzels

8

slices bacon, rind removed

1

red pepper (capsicum)

1

green pepper (capsicum)

8

wooden skewers, pre-soaked in water
Cut schnitzels lengthways down the centre.
The strips should be about 4 cm wide.
Lay a slice of bacon on top of each piece of pork.
Weave both the pork and bacon onto a skewer, interspersing with pepper pieces.
Barbeque on a medium heat for 6- 8 minutes, turning frequently.