loof751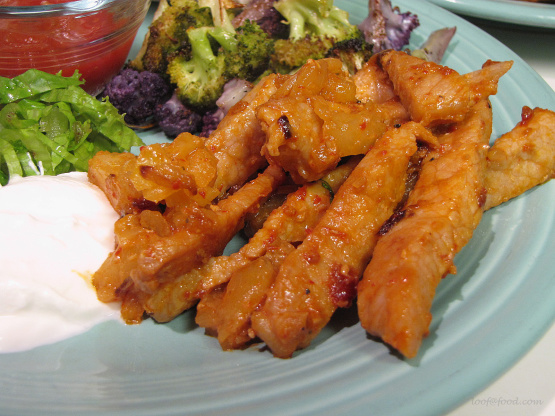 We really enjoyed this with a tossed salad. Recipe source: Redbook magazine
1

lb pork tenderloin
1⁄4 cup pineapple juice (I used orange juice)

1

chipotle chile in adobo, chopped

1

teaspoon adobo sauce

1

onion, sliced

1

pineapple, sliced (the original recipe said 3 slices, but I used the whole pineapple which is probably double that amou)
corn, tortills warmed
salsa, and other condiments usually served with tacos
Slice tenderloin, lengthwise and then in 1/2 inch slices.
In a medium bowl combine juice (see note in ingredients) chile, adobo sauce, 1 teaspoon kosher salt and 1/4 teaspoon pepper. Add pork and toss to coat. Set aside.
Brush onion and pineapple slices with canola oil and add to grill pan over medium high heat, cook, stirring until charred (5 minutes). Remove from heat and let cool and then chop together.
Add pork to pan and grill turning - 5 minutes or until done. Chop pork into 1/4 inch pieces and add to pineapple mixture.
Serve with warm tortillas and salsa and other condiments.