Porcupine Meatballs W/ Rice-a-roni
lets.eat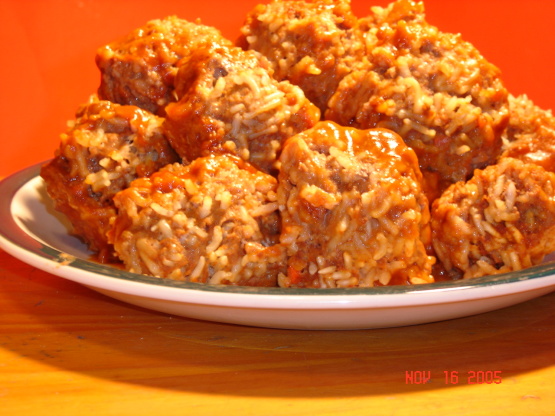 This recipe is from my favorite aunt. It's a big hit in her family, and great comfort food. And it's so easy that her bachelor sons can make it themselves. (of course, they'd rather have mom make it!!)

We all love this recipe. We make extra gravy using the seasoning packet and water called for on the box. We thicken with cornstarch and bake in the oven for about 40 minutes at 350. Rice is always done. My children love it served over egg noodles.
1

lb ground beef

1

package beef Rice-A-Roni

1

egg

2

packets brown gravy mix
Mix ground beef with egg and rice-a-roni, reserving seasoning packet.
Shape into balls.
Brown in frying pan, on all sides.
Drain grease.
Sprinkle seasoning packet on top.
Mix brown gravy mix and pour on top.
Cover and simmer for 15 minutes.
Serve over mashed potatoes.