Porcupine Meatballs in Crock Pot!
Boomette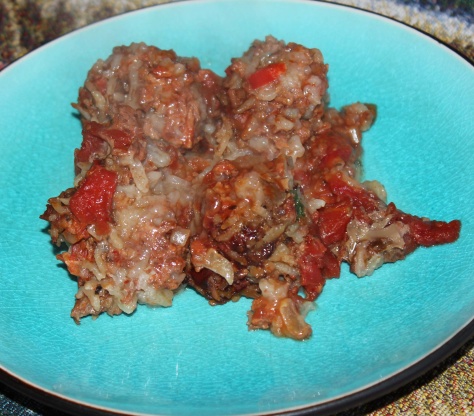 Easy to make and tasty meal. Meatballs can be made ahead of time and frozen. I hope you like it. Prep time includes chopping the onion and pepper.

Top Review by KatMcC
These are great! I had to alter the recipe slightly because of dietary issues. Instead of tomato soup I used a 6 oz can of tomato paste and an 8 oz can of tomato sauce and a little bit of sugar. I usually use fire roasted tomatoes, but didn't have any tonight, so I just used a 15 oz can tomato sauce and added basil, garlic powder and onion powder. I ended up adding another 15 oz can of tomato sauce because I'm using a 5 qt crock pot and it wasn't even half full so this cooked quickly. I hope to get a smaller crock pot for this and other smaller recipes. I've put off posting this review because of the changes I made, but I decided this might help other people that have gluten problems enjoy this recipe. Thanks for giving me a great starting place!
Combine first 7 ingredients, mixing well to combine.
Shape hamburger mixture into roughly 20-24 meatballs about 1 1/2 inches around.
Place meatballs in crockpot and pour soup and tomatoes (plus juice from tomatoes) over the meatballs.
Cover and cook on low for 7-8 hours or high for 4.
I usually make the meatballs the night before, or even a week before, then freeze them until ready to use.
Makes for a real quick preparation time.
ENJOY!