Pam-I-Am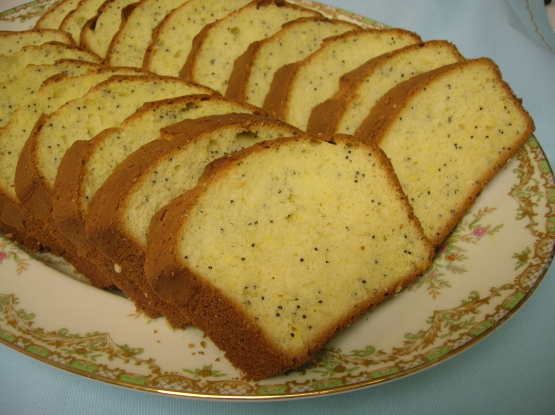 This recipe was my great aunt's. It was always enjoyed at family functions. This makes two loaves and freezes well.

I loved the quick and easy way to make poppy seed bread. I make them for my neighbors at Christmas and this makes it so easy. Unfortunately, I couldn't get the coconut cream pudding mix so I just used the cake mix. It was still good. Thanks so much!!
In a large mixing bowl, combine cake mix, pudding mix, eggs, water and oil.
Beat for 2 minutes.
Fold in poppy seeds.
Pour into 2 greased and floured 8 1/2 x 4 1/2x 2 1/2 inch loaf pans.
Bake at 350 degrees for 35 to 40 minutes.
Cool on wire racks.