Katzen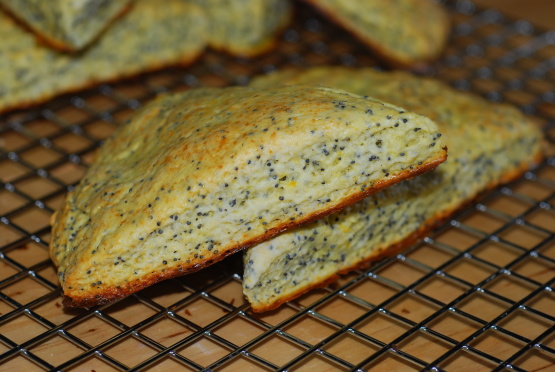 I found this loverly recipe in a cooking magazine and it instantly appealed to me! It very easy and quick to put together and makes for a wonderful breakfast. Since I like to spread my scones with some jam, I use less sugar. So if you want them to be sweeter, just take more sugar.

Top Review by Katzen
So delicious, and easy to make in the morning - made for a decadant and simple breakfast with some wild blueberry organic spread - yum. You can always count on Loula's baking recipes to be just lightly sweet, which is perfect for me - and these did not dissapoint. The only changes I made were to use my food processor out of laziness, used buttermilk, because I had some to use, and I had a lemon to use, so I added in the zest from about half of it. I made the scones in a large circle, and made six triangular scones. The milk and egg wash was a lovely touch! Both my parrots and I absolutely adored these, Loula! Thank you! Recipnapped for September Veggie Swap.
Combine flour, baking powder, butter, poppy seeds, egg, milk and salt using the dough hooks of your mixer first and then your hands until dough is smooth (Be sure not to overmix).
Turn out onto a lightly floured surface and roll out (about 1 cm thick).
Using a glass of about 7.5 cm in diametre cut out scones.
Put onto a paper-lined baking sheet and brush with the egg-milk-mixture.
Bake in the preheated oven at 200°C for about 15-20 minutes.