twissis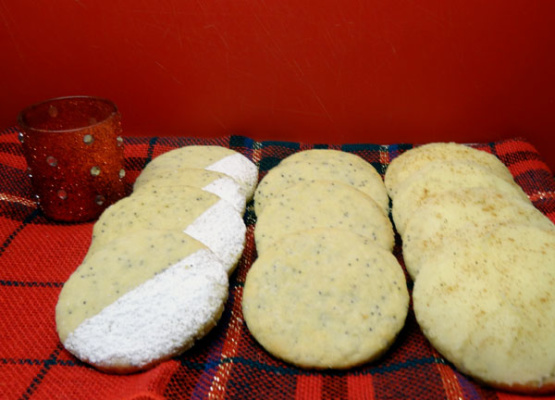 These cookies make a dry, shortbread type of cookie. As a child, my Great Aunt Lil would make these for the Channukah celebration. They aren't as sweet as many other cookies, and may appeal more to adults than the kids.

Made exactly as written for the FYC Tag Game & part of my Christmas food gifts to Siggi's family this yr. I wasn't sure what size round cookie cutter to use from my set of 3. The smallest seemed too sml & largest too lrg, so I used the mid-sized one that measured 6 cm (slightly less than 2.5 in). My yield was 62 cookies & the dough was very easy to work with. I forgot to prick the cookies w/a fork (didn't seem to matter) & the bake time was spot-on. You described the cookies well. They are very much like a buttery shortbread & not overly sweet, but I didn't find them dry at all. Siggi & I used the "2 extra cookies" for our taste test & we both like them a lot. He prefers most sweet treats fairly plain, so I left 20 cookies plain, lightly dusted 20 w/powd sugar & frosted 20 using an eggnog icing sprinkled w/nutmeg. Some will be set aside for Christmas Eve here w/Siggi's Mom & the rest will be delivered to 4 other family members, so my yield was perfection -- A dozen of your tasty cookies for everyone! Thx for sharing your Great-Aunt Lil's yummy cookie recipe w/us. (Pic will post later today)
Sift together the sugar, flour, baking powder and salt.
Make a well in the center and pour in melted butter, eggs, milk and poppy seeds.
Mix by hand just until all ingredients are incorporated.
Refrigerate for 10-15 minutes.
Remove enough dough to roll with rolling pin and return the rest to the refrigerator.
Roll dough onto floured board until about 1/4-1/2 inch thick.
Cut cookies using round cookie cutter or dinner/juice glass.
Prick cookies with a fork several times across the top.
Bake at 350 degrees on an ungreased cookie sheet for 10 minutes or until lightly browned.
Repeat beginning with rolling the dough until all cookies are finished.