Thorsten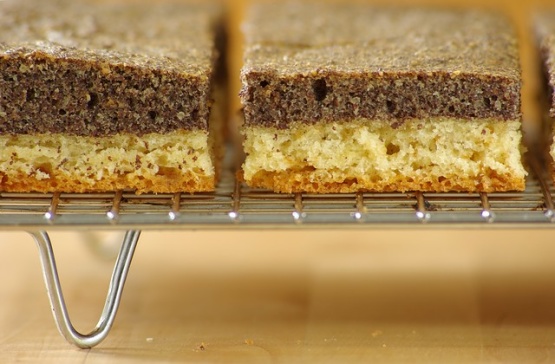 A straight poppy seed cake, more on the dry side. A fantastic companion for a cup of coffee, tea or milk. Even after a few days the cake is still delicious. The cake is not overly sweet and has a wonderful decent poppy seed flavor. Try it for the next picnic of for an afternoon break. Just sit back, relax and enjoy this cake.
For the dough mix first seven ingredients well.
Mix flour and baking powder and stir one part into the dough mixture. Knead in the rest of the flour.
If the dough is too dry you can add one or two tablespoons of water.
Preheat oven (180°C, 355°F) and grease a baking tray.
Put dough onto tray and roll out so that the whole tray is covered.
Half vanilla beans lengthwise and scrap out the vanilla seeds. Set aside.
Separate eggs into yolks and egg whites. Beat the egg whites until stiff and set aside.
Now put dough into oven and bake for 10 minutes.
While the dough is in the oven beat butter until creamy. Then add egg yolk by egg yolk.
Add vanilla seeds, honey, cinnamon, grounded almonds and grounded poppy seeds. Mix until well blended.
Fold in egg whites.
After 10 minutes take out the dough of the oven and reduce heat to 160°C (320°F).
Spread Topping equally over the dough and bake for another 30 to 40 minutes or until topping is firm.
Take cake out of the oven and cut into pieces. Let cool completely on a cooling rack.
NOTE on poppy seeds: try to get already grounded poppy seeds. To ground them is a lot of work. If you can't get grounded poppy seeds, you should ground them first, because it may take a while.