Juenessa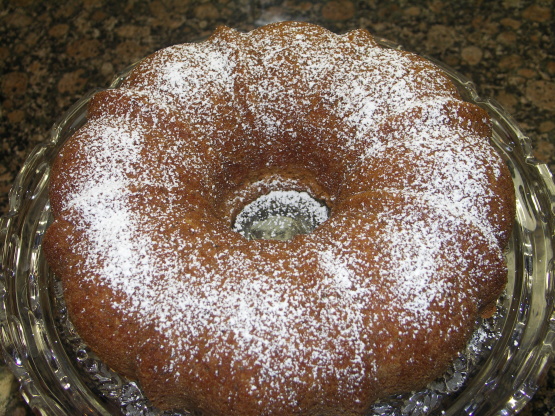 This recipe came from a friend of mine named MaryAnn. My recipe is so worn, I thought I'd better get it typed into recipe zaar before I could't read the ingredients anymore! This is a quick and easy cake as it starts out with a cake mix. It is very moist too.

This is so good! My mom gave me this recipe a few months ago; we've made it three times already because everybody loves it so much. Thanks for saving me the work of posting it on here!
Mix all ingredients together.
Pour into greased bundt pan.
Bake at 335 degrees between 40 - 50 minutes.
Note: I know that everyone's oven bakes differently. This is how this cake turns out best in my oven. Start looking at the cake at 35-40 minutes to see if it finished. It should be light to medium brown and mostly set when jiggled.