Kaarin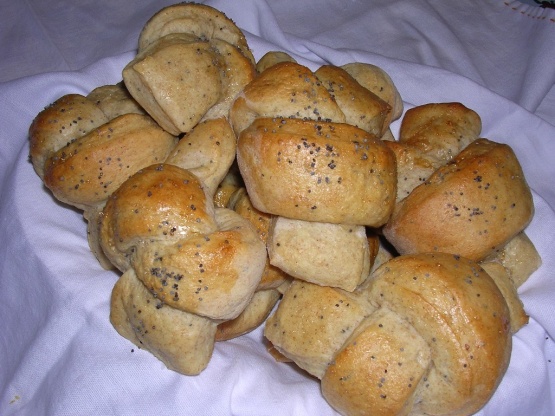 These look so pretty, you will be glad you made them! Prep time includes rising time.

Sharon this is a wonderful recipe for bowknots! I did make a few changes though, I used 3/4 cup water and 1 cup buttermilk and increased the yeast to 1 tablespoon. Thanks hon!...Kitten:)
In a large bowl, and electric mixer fitted with a dough hook, or a food processor, sprinkle the yeast over the water, stir, and let stand for 5 minutes.
Stir until dissolved.
Add 4 cups of the flour, the sugar, salt, butter, and buttermilk to the yeast mixture, and mix thoroughly.
On a lightly floured board or in the mixer or food processor, knead the dough until smooth and elastic- about 4 minutes by hand, 2 minutes in the mixer, or 30 seconds in the processor.
Add more flour as needed to keep the dough from sticking.
This is more malleable and softer than a bread dough.
Transfer the dough to a large, lightly greased bowl, turn to coat with the grease, and cover with a clean dry towel.
Let rise in a warm, draft-free spot until doubled in bulk- about 1 hour.
Punch the dough down and knead it on a lightly floured surface for 2 minutes.
Roll the dough out to a 24"x6"x1/2" rectangle, then cut into 6"x1"x1/2" strips.
Gently tie each strip into a bowknot by slipping one end over, under, then back over the other.
Lay the roll 2 inches apart on a lightly oiled baking sheet; cover with a clean dry towel.
Place in a warm, draft-free spot until the rolls have doubled in bulk-about 25 minutes.
Preheat the oven to 375*.
Brush the tops with the egg white and sprinkle with poppy seeds.
Bake on the middle shelf fo the oven until golden brown and a toothpick inserted in a knot comes out clean- 20 to 25 minutes.
Cool on the baking sheet, then serve.
Makes 24 rolls.