jonesies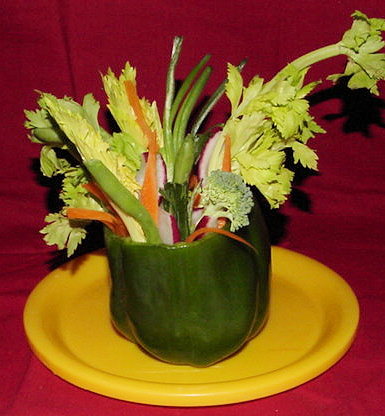 Fun-filled meal, especially for kids. But I have to admit, I like the visual on my plate too! You can adapt the filling to suit your needs, by adding any longer, eye-appealing veggie you desire. If you took out the chicken, would be nice to present at a casual dinner party. Enjoy! Note: you can use any dressing on the bottom, sometimes blue cheese isn't very kid friendly, so maybe try some ranch or your favorite homemade dressing!
Top Review by Jyber
Not a big raw food fan, I blanched, then chilled, the snow peas for 2 min, the broccoli spears for 4, and the red pepper shells for 4. Recipe #55119 made a good bleu cheese dressing. Left over garlic ginger chicken strips (#153159) and some garlic bread rounded out the meal. Summer food salad dude was pleased with this.
Slice tops off of pepper, remove seeds. Slice 2 tablespoons of green onion, set aside.
Prepare veggies as noted above.
Cut the tops of the remaining green onions half way down, then cut the green portion several times in order to "spray" outwards.
Mix the salad dressing, sour cream, blue cheese and 2 tbsp green onion.
Place some of the dressing mix into the bottom of the red peppers.
Arrange veggies and chicken strips standing up inside of peppers.
Note: Have fun with the preparation, arrange to look like the ingredients are "blooming" from the pepper! Nice and colorful!