jpcjpc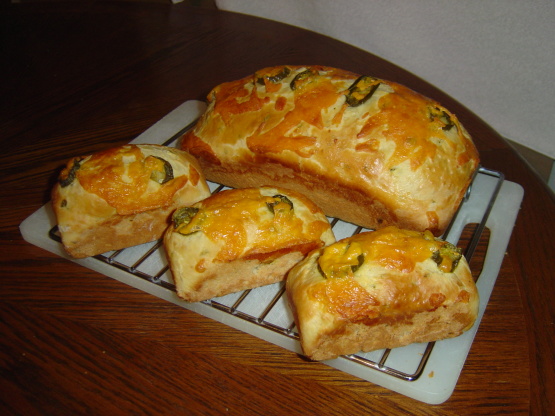 Bergy gave me the idea to use jalapeno bread to make hamburger rolls... while my hamburger idea didn't quite fly, the buns were out of this world! I used 2 fresh and 1 canned Trappey's jalapenos, and sprinkled sesame seeds on top. I thought it had a wonderfully spicy flavour, and my fiancee informed me that many folks would think these were 'hot'. Give it a shot! I baked the buns on a baking stone for about 20 minutes. They made 6 large rolls.

This bread is OUT OF THIS WORLD! For some reason it took quite a bit longer to raise, but the ending result was just amazing. The flavor is simply delightful, and the texture is fabulous. The outside is nice and crispy, and the inside soft and just perfect. Your instructions are clear, concise, and easy to follow. For some reason I didnt need quite 4 cups of flour. The cheese and jalapenos mixed in very easily. I noticed however that my loaf baked in under 40 minutes. Unfortunately I forget how long it was in for now, but I do know it was under 40 minutes. Fabulous bread. I'll be making this again in a few days for sure!!! lol :)
Dissolve yeast in warm water in a large bowl; let stand 5 minutes until foamy.
Combine dissolved yeast, egg and butter; mix until butter melts.
Combine 3 cups flour, sugar, salt and garlic salt.
Gradually add flour mixture to yeast mixture, beating at medium speed of electric mixer until smooth.
Beat in peppers, cheese, onion and enough of the remaining flour to form a soft dough.
Turn dough out onto a well-floured surface and knead 1 minute.
Shape dough into a loaf; place in a greased 9 x 5 x 3-inch loaf pan.
Cover and let rise in a warm place, free from drafts, 30 minutes or until doubled in bulk.
Preheat oven to 400.
Bake 40 to 45 minutes or until done and loaf sounds hollow when tapped.
Remove from pan and allow to cool on wire rack.