Debber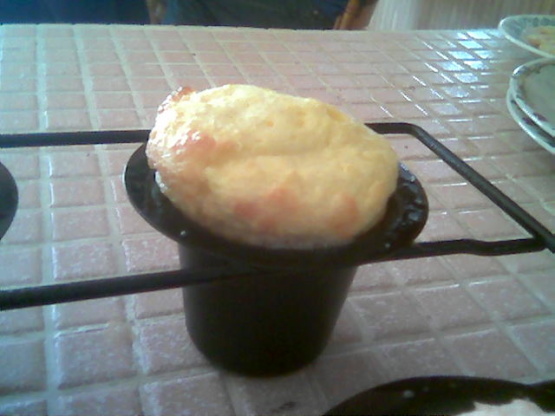 These are super easy and they taste great - just my type of recipe! They need to be eaten nearly as soon as they come out of the oven though, or they deflate and lose their crunchy outside. I sometimes make them right before I go to school. I get up and make the batter, then get ready to go. By the time I'm ready to put my shoes on, the popovers are done. They are crunchy on the outside and fluffy on the inside. Absolutely delicious!

This was a fantastic recipe! I made this for my husband and daughter the morning before he went back to Iraq. I used a muffin tin so they weren't as big, but even then the whole dozen were gone before the bacon!
Beat the eggs in a medium-sized mixing bowl.
Whisk in the milk, flour, butter and salt.
Pour into a popover pan, or a lightly greased muffin tin (which will work fine, although the popovers won't rise as high), filling halfway.
Put into a COLD oven, and set it to 450 degrees.
Bake at 450 degrees for 15 minutes, then turn the heat down to 350 degrees and bake for another 15 minutes. If you have opened the oven at any point, bake for 16 or 17 minutes. The popovers should be golden on top.
Take them out and prick the tops with a knife to release excess steam.
Slice open and eat with butter and/or jam.