teresas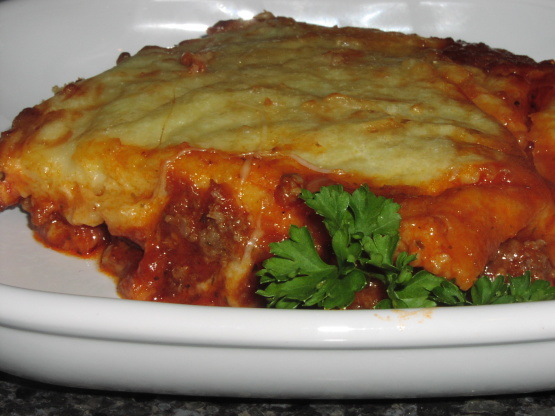 Family friendly recipe! If making it only for adults, I'd spice it up a bit.....but for families, this is excellent. Throw it together, put it in the oven, relax a bit and dinner is ready! Serve with a salad to get some green veggies in!

This was amazing...it puffed up and came out so delicious...I used pizza sauce only because I had some that needed to be used up...I made the full 6 servings for 2 people...I have leftovers...and I'm sure they are going to be tasty...I made it with the hot sausage and red pepper flakes...made for "For Your Consideration" tag game...
Brown the ground beef, italian sausage, onion and garlic in a large skillet over medium heat, stirring until meat crumbles. Add the pepperoni and cook an additional 3 minutes, stirring occasionally. Drain the meat mixture, discarding the drippings. Return the meat mixture to the skillet.
Add the spaghetti sauce and wine; cook, uncovered, over low heat for 8 minutes, stirring occasionally. Spoon into a lightly greased 13x9x2 inch baking dish.
Sprinkle with mozzarella cheese and set aside.
Combine the milk, eggs, and oil in a medium bowl, beating with a wire whisk until blended. Gradually add the flour, beating until smooth. Pour the batter over the meat mixture in the baking dish; sprinkle with the Parmesan cheese.
Bake, uncovered, at 400 degrees for 30 minutes or until puffed and golden. Cut into squares and serve immediately.