Popeye's Favorite Muscle Booster Sandwich-Spinach, Chicken
Derf2440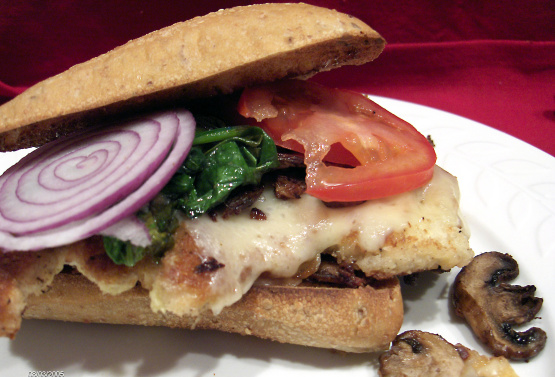 To say this is an Italian fusion sandwich would be stretching it but to say that it is full of flavor and healthy is true.. Makes a great lunch sandwich with a bowl of soup on the side.for 4 or as a dinner main dish for two perhaps served with onion rings and oven fries. I like to use Herb Focaccia (home made or bought) but in a pinch regular sandwich buns will do. Add whatever condiments you like I have suggested sliced sweet onion, tomato and cheese. If you are just trying to get your family to eat spinach cut it back to 5 oz.

Very good and very filling!!!! Wonderful way to use spinach,it was delicius, and you can't beat Panco breadcrumbs, the chicken was lovely and crispy! We had red onion slices, tomato slices and Swiss cheese slices melted on top and stacked it all on Focaccia buns. Very tasty and fun meal, we will be making again. The instructions were well written and easy to follow. Thanks for sharing this big delicious sandwich and good luck in the contest.
Beat the egg with the water.
Dip prepared chicken breast in the egg then in the seasoned bread crumbs.
Add 1 tbsp of oil to a large skillet, medium heat, pan fry the chicken for apprx 5 minutes each side or until golden.
Add mushrooms for the last 5 minutes.
Stir fry them so they get well browned on both sides.
Meanwhile put 1 tbsp oil in another skillet over medium heat add garlic, saute 1 minute, add fresh spinach for 1-2 minutes or until it wilts or if using frozen heat it through.
Add lemon and nutmeg.
Keep spinach warm.
Cut the Focaccia bread through the middle and toast the inside - Butter it if you wish.
Place chicken on the bottom half, top with spinach and mushrooms - add any other condiments like sweet onion, tomato and cheese.
If you are using cheese melt it a bit on the chicken before removing it from the pan.
Put on the top half of the bread.
Cut into 2 or 4 pieces.