Popeye Pasta With Feta Cheese
Annacia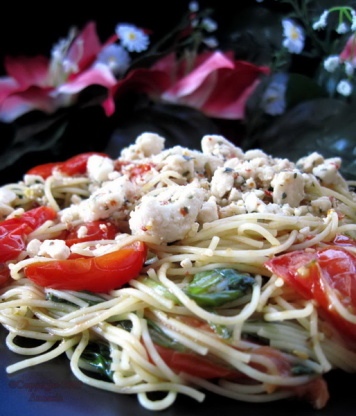 Casual in looks, good in flavor. Fresh-tasting garlic and tomato with salty feta cheese. A Mediterranean look and taste.

Enjoyable pasta dish. Nice and easy with great taste. Made for Aussie / Kiwi Swap 43, August 2010.
Cook pasta in boiling water and first amount of salt in a large uncovered pot or Dutch oven for 6 minutes until tender but firm. Drain. Return to pot.
Add first amount of olive oil. Toss. Keep warm.
Meanwhile, saute tomato and garlic in second amount of olive oil in large frying pan for about 2 minutes until tomatoes have released their juices.
Add next 6 ingredients. Heat and stir for about 1 minute just until spinach is wilted and heated through.
Pour over pasta. Add feta cheese. Toss well.
Note: In place of fresh marjoram, you could replace with 3/4 teaspoon dried marjoram and you can replace garlic cloves with 3/4 teaspoon garlic powder.