Popcorn Snack Mix (No Nuts)
Redsie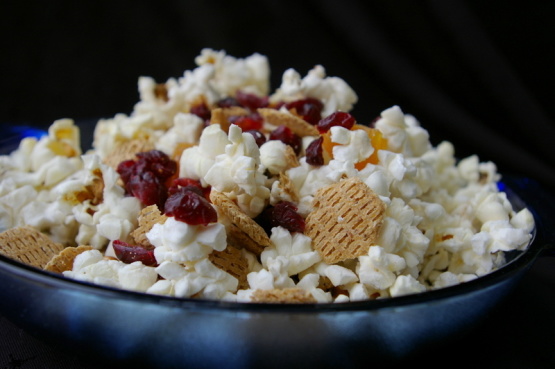 Adapted from Go for your life, I wanted a toddler friendly snack mix that would kind of fit the Halloween theme. I came up with this colourful combo. I also added some "Cocoa rocks" to this which added to the effect to look like stones. The kids devoured this at playgroup. You could also adapt this to fit the xmas theme by substituting apricots for dried cherries and adding some dried kiwi, dried peas or a lolly such as mint leaves or green smarties or M+M's.
5

cups air popped popcorn
3⁄4 cup dried apricot, diced
3⁄4 cup Nutri-Grain cereal
3⁄4 cup dried pawpaw, diced
Combine all ingredients and serve.