Redsie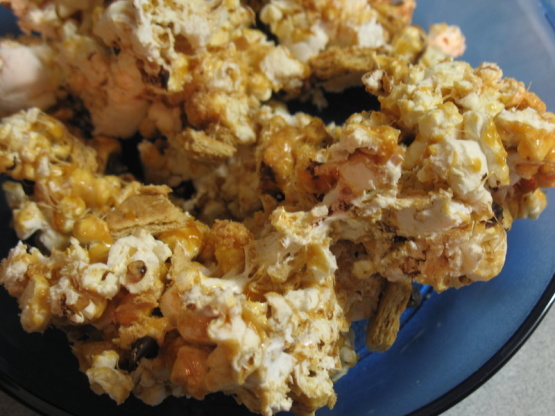 This is from Family Fun's website. I make it and put it in a pan to set and cut up as bars. Prep. time is an estimate, including popping popcorn.

Good! The kids enjoyed this. I really think this would be better if the caramel mixture were poured over the popcorn, let cool, then other ingredients were mixed in. Everything melted together into a clump which made it hard to distinguish different flavors, and the popcorn wasn't as crunchy as I would have liked. Thanks for sharing the recipe!
Combine the brown sugar, butter and corn syrup in a medium saucepan.
Cook on high for 5 minutes.
Remove the pan from the heat and stir in the baking soda.
Thoroughly combine the popcorn and marshmallows in a large metal bowl. (Do NOT use a plastic bowl).
Drizzle the sugar mixture over the popcorn to coat it.
Gently stir in the graham crackers and chocolate chips, incorporating them evenly throughout the mixture.
Let the mixture set until cool enough to handle, then, using buttered plastic sandwich bags on your hands, form the mixture into golf-ball-size balls.
Store in airtight container.
NOTE: Do NOT use air-popped popcorn. It will melt when combined with the hot sugar mixture.