lets.eat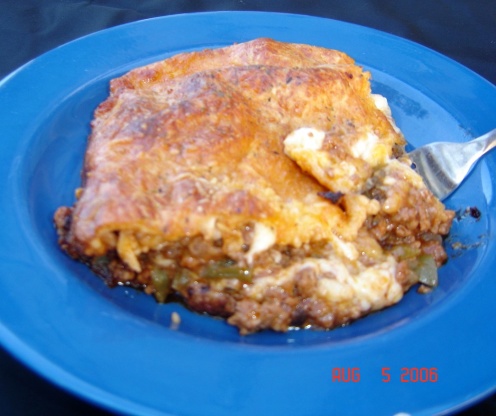 Very, very yummy! We loved the taste of the crust especially. The list of ingredients does not show tomato sauce! Even though I just guessed on the amount (have to translate to European measurements), it was a little aggrevating. That is why only 3 stars. But the taste was very, very good. Thank you for sharing!
Preheat oven to 400°F.
*** FILLING ***.
In large skillet, brown hamburger and drain.
Stir in onion, green pepper, garlic, oregano, salt, water, hot pepper sauce, tomato sauce and sauce mix; simmer about 10 min stirring occasionally.
*** BATTER ***.
In a bowl, combine milk, oil and eggs; beat 1 min on medium speed.
Add flour and salt; beat 2 min or until smooth.
*** ASSEMBLY ***.
Pour hot meat mixture into 13x9 pan; top with cheese slices.
Pour batter over cheese, covering filling completely; sprinkle with parmesan cheese.
Bake at 400°F for 25-30 min or until puffed and brown.