Poor Man's Pudding Cake (Pouding Chomeur)
vltseng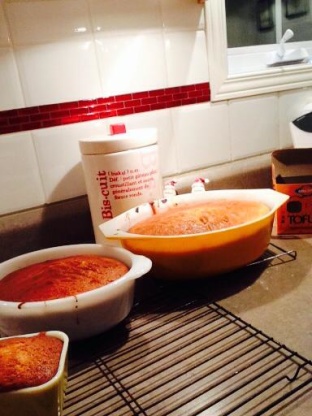 Adopted recipe! A traditional French-Canadian recipe that is very common in Quebec. A syrupy "pudding" with a cakey topping. Very sweet.

This is the exact recipe my Mum made for dessert many times when we were all young!! Made it for my husband, who loves sweets and he loved it too!! In the fall, Mum used to put some apples in the bottom of the baking dish, also yummy!!!! Pleasant memories with this one.. Thanks.....
In a saucepan melt butter or margarine; stir in brown sugar.
Add water and vanilla.
Bring to a boil.
Meanwhile, make the dough.
Cream butter or margarine; add sugar.
In a separate bowl, combine flour, baking powder and salt.
Add to butter mixture alternately with milk.
Pour syrup into a 9 X 13 baking dish.
Drop dough by teaspoons over syrup.
Bake at 350 F for 30 minutes.