Parsley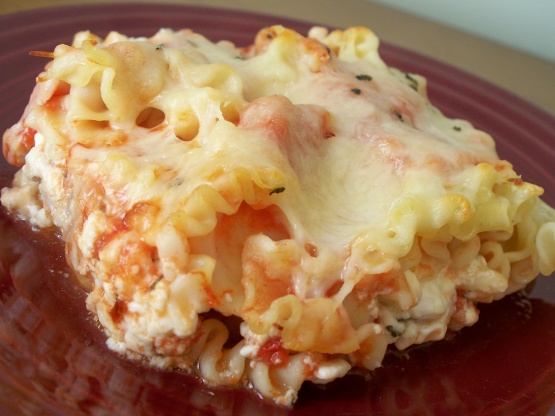 This is how I always fix my lasagna- I don't like messing with the real noodles :-) It's really healthier than you'd expect such a fulfilling meal to be. You can use ground turkey instead of beef. I have also made it with squash and mushrooms instead of meat- which was a nice change. It goes great with a big chunk of freshly toasted garlic bread... Edit: After some of the reviews I thought I'd mention that the pasta sauce I use isn't plain tomato sauce, but a flavored sauce that you'd eat over spaghetti (like chunky garlic mushroom flavor.)
Brown meat in a skillet. Drain fat from meat (I usually rinse it under warm water.).
Meanwhile, boil noodles according to package directions (its OK if they're a little underdone.).
Meanwhile mix the egg and cottage cheese in a bowl, and set aside.
Spray a 9x13 pyrex. Coat the bottom with a very thin layer of pasta sauce. Layer about half of the noodles on top of the sauce. Layer the meat on top of that, followed by another thin layer of sauce. Layer the cottage cheese mixture on top of that, followed by the remaining noodles. Add the remaining sauce on top of the noodles (I prefer it thin on top, so that the noodles get crispy-chewy.) Sprinkle all of the cheese on top of the lasagna.
Bake at 350 for 20-30 minutes depending on how crunchy you like your noodles.
I have found that half of a container of cottage cheese is perfect, so I usually go ahead and mix the remaining half with an egg, and freeze it. It defrosts quite easily in the fridge next time.
I also usually buy the meat on sale in bulk, and freeze it in pre-cooked portions. If you do that, you can easily put this meal together quickly. It's also easy to make 2 lasagnas at once, and freeze one for later. You can reheat it in the microwave, or in the oven at 350 for 20 minutes, covered.