Nif_H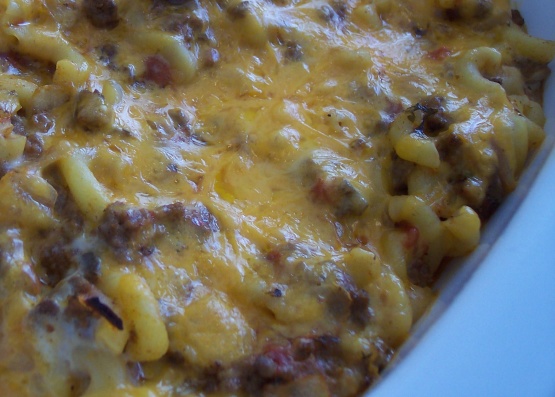 This is a very economical dish, but it is very tasty! Served with some bread and possibly a salad, you could have a "poor man's dinner party"!

My husband and I really enjoyed this. This is very good. I shared the recipe with some of my coworkers. I will definately be making this again and again. Thanks for the recipe.
Brown ground been in shortening until all red color disappears. Drain all but 1 1/2 tsp grease from the skillet.
Add the onion, tomatoes, catsup, steak sauce, green pepper, and parsley. Simmer for 30 minutes.
Meanwhile, cook the macaroni according to package directions. Combine macaroni and ground beef mixture in a 2 quart baking dish. Season with salt and pepper to taste, keeping in mind that you will be adding a cream of soup.
Gently spoon mushroom soup into mixture. Mix lightly, lifting from the bottom. Sprinkle 1/2 cup cheese into the mix and stir. Add the other 1 cup of cheese on the top.
Bake at 350°F for 30 minutes, or until top is bubbly and browned.