COOKGIRl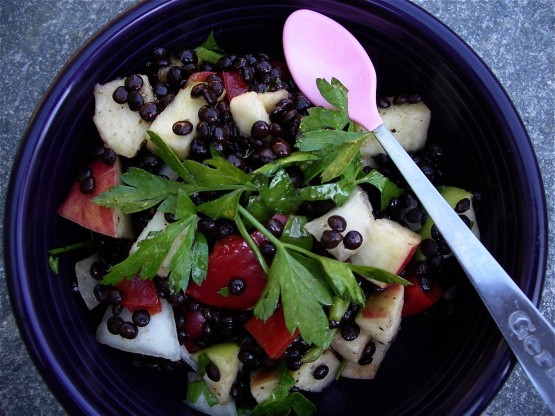 In "Tangy Tart Hot & Sweet," Padma Lakshmi (of Top Chef fame) writes that she "named this salad after a town in South India that was heavily influenced by French colonization." She uses black Beluga lentils, which are similar in size to Puy lentils, but the recipe can be made with any lentils; just remember to adjust the cooking time if necessary. This dish improves in flavor the second day.

Wow! I used black beluga and this is an outstanding recipe! You don't find black beluga recipes often, that's for sure. Served over brown basmati rice and I believe this would actually make an interesting cold (or at least room temperature) salad for summer picnics, potlucks, etc. PS I added about 1/4 teaspoon dark toasted sesame oil. cg
2

cups lentils

8

cups water

1

fuji apple, cored, diced

1

yellow bell pepper, large, diced

1

jalapeno pepper, diced (remove seeds and veins if you like it less hot)

1

cup flat leaf parsley, leaves, chopped
1 1⁄2 lemons, juice of

2

tablespoons olive oil

1

tablespoon balsamic vinegar

1

teaspoon salt

1

tablespoon sesame oil

1

tablespoon gingerroot, fresh, minced
1 1⁄2 teaspoons gingerroot, fresh, minced
1⁄4 cup unsweetened coconut, shredded
Pick lentils over for any small stones; rinse and soak 2 hours in tepid water; drain.
Place lentils and water in a large saucepan; heat to a boil.
Reduce heat to low; cover and cook until lentils are tender, but still firm, 20-25 minutes.
Rinse the lentils with cold water; drain.
Mix together the lentils, apple, bell pepper, jalapeno, parsley, lemon juice, olive oil, vinegar and salt in a large bowl; chill until serving time.
Just before serving, heat the sesame oil in a skillet over medium-high heat. Add the ginger and coconut; cook, stirring occasionally, until golden, 3-5 minutes. Sprinkle ginger and coconut over the lentils.