Pomodoro Fresco Sourdough Bruschetta
Nimz1466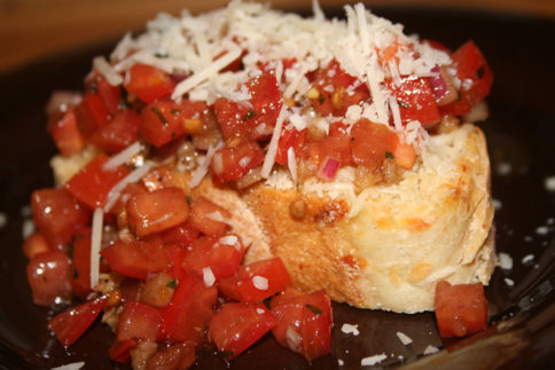 Got this recipe from Guy's Big Bite. One of the best I've had. I didn't have baguette so I use a ciabata. Just as good.

This is my favorite bruschetta recipe by far and I've tried quite a few! I was going to post it myself but saw you already had...glad to see others have found this delicious too!
Preheat the oven to 350 degrees F.
Cut the baguette in half lengthwise, place on a sheet tray and bake in the oven until lightly brown. Rub with the garlic cloves. Drizzle with 2 ounces of the olive oil and sprinkle with the Parmigiano-Reggiano. Return to oven to melt cheese.
In a medium mixing bowl, add the tomatoes, minced garlic, basil, vinegar, remaining olive oil, salt and pepper. Mix thoroughly and let sit for 5 minutes at room temperature.
Remove baguette from oven and top with the tomato mixture. Garnish with basil and Parmigiano-Reggiano.