Pommes De Terre Avec Udon
Ingy1171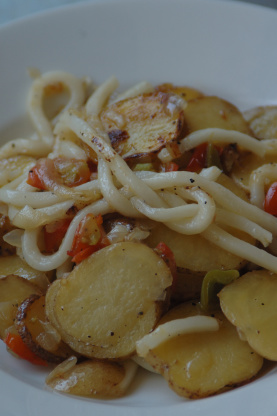 Provence meets the orient in this dish of fresh garden potatoes and fresh Japanese udon noodles. I'm amazed by the French influence in my rural Japanese town -- this recipe honors the mix of cultures. Can be eaten with a fork or chopsticks -- whatever your pleasure!
Heat olive oil in large skillet and add chopped onions.
Salt the onions to bring out flavor. Cook until slightly golden.
Salt potatoes, add to skillet and cook until potatoes begin to soften and turn brown around the edges.
Add rice wine vinegar to help the onions caramelize and bring out the natural flavor of the vegetables.
Add chopped pepper, tomatoes and fresh udon noodles. Mix together and season with salt and pepper as needed.