Pommes Anna (Potatoes Anna)
Kate 8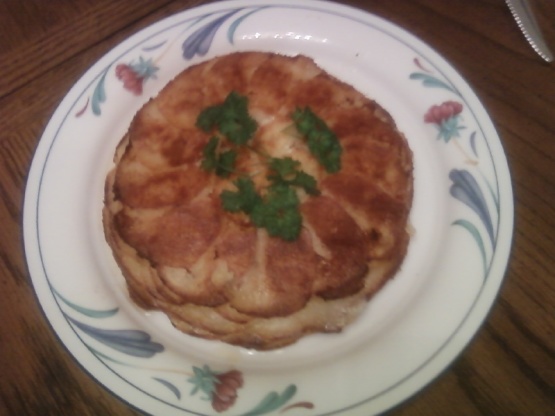 From Cooking Light. Tasty!

i have made these a couple of times and they are absolutely delicious! my family loves this recipe. thanks for reminding me of this great one from cooking light magazine! nancy
Preheat oven to 450 degrees F.
Combine salt and pepper in a small bowl.
Melt 2 1/2 T butter in a 10-inch cast iron or ovenproof heavy skillet over medium heat.
(I've found pan size is important here. Otherwise adjust quantities and cooking times.) Arrange a single layer of potato slices, slightly overlapping, in a circular pattern in pan, sprinkle with 1/4 tsp salt mixture.
Drizzle 1/2 tsp melted butter over potatoes.
Repeat layers 5 times, ending with butter; press firmly to pack.
(I press firmly to pack before adding the last of the butter.) Cover and bake at 450 degrees for 20 minutes.
Uncover and bake an additional 25 minutes or until potatoes are golden.
Loosen edges of potatoes with a spatula.
Place a plate upside down on top of pan, invert potatoes onto plate.
Sprinkle with parsley, if desired.