PaulaG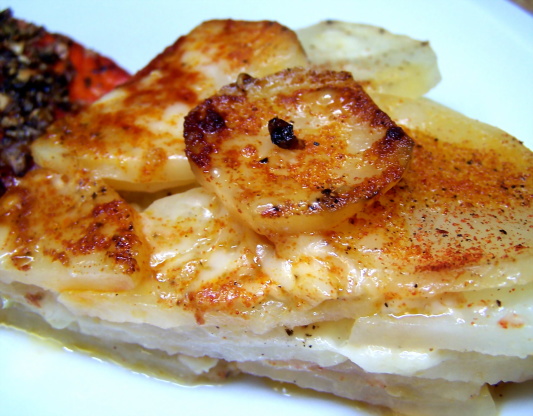 Potatoes layered with garlic butter, onion slices and Parmesan and baked until crisp on top, tender underneath. This is the best Pommes Anna I've ever had. It takes a little time to put together but the results are well worth it. Please don't try to lower the amounts of butter or cheese in this dish, it's supposed to be decadent. I make this in a white quiche plate with fluted edges and it is very beautiful and impressive. From Flavors, a San Antonio Junior League cookbook, credited to Mrs. Edgar M. Duncan (Linda Wyatt)

This is wonderful company fare!! I prepared it about 4 hours before dinner, covered it, and left on the counter until ready to cook. I made it exactly like the recipe, using only half the onions - it was perfect and looked beautiful in my white quiche dish. Not a single bite left after dinner for four!!! I will be using this recipe over and over again! Thanks!!
Slice potatoes in 1/8-inch thick rounds and soak in ice water for at least 30 minutes. Drain slices and pat dry with paper towels.
Combine butter and garlic.
In a deep 10-inch greased pie plate or casserole, arrange 1/3 of the potato slices in slightly overlapping fashion, beginning with the outside edges and continuing the circle design to center of dish.
Layer 1/3 of onion slices, broken into rings, on top of the potatoes, then 1/3 of butter mixture, salt, pepper, paprika and cheese. Repeat this process 2 more times, ending with cheese on top.
Bake, covered at 400 degrees for 1 hour. If cheese is not brown on top, place under broiler for 4-5 minutes. Cut in wedges to serve.