awalde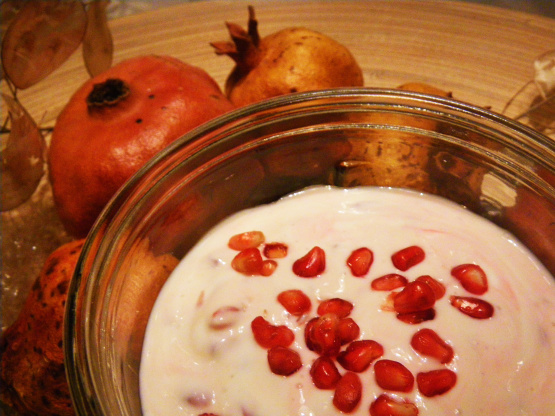 Delicious with rice dishes, particularly spicier ones of Indian style. But my family likes this with Middle Eastern rice dishes as we don't eat very spicy and DH loves a sauce with rice. You may add a squeeze of pomegranate juice from the husks of the seeded pomegranate depending how you remove seeds or add a little pomegranate molasses instead, found in Middle Eastern shops. A note to self, change it up a bit by adding fresh finely chopped mint when using sweet white onion sometimes. Modified from a recipe by Nigella Lawson on http://www.foodnetwork.com

Top Review by umisa
Wow..... this was amazing. I love the burst of tartness when you bite into the pomegranate seeds. Dh was a bit apprehensive at first because to him, pomegranate in yogurt is weird. But he really didnt complain which means he likes it lol. Thanks for the yummy unique recipe!
Combine all of the ingredients in a bowl, reserving some pomegranate seeds for garnish.
Add pomegranate juice or pomegranate molasses as it states in the introduction if wished and stir until yogurt is smooth.
Scatter the reserved pomegranate seeds over top.
Enjoy!