Becky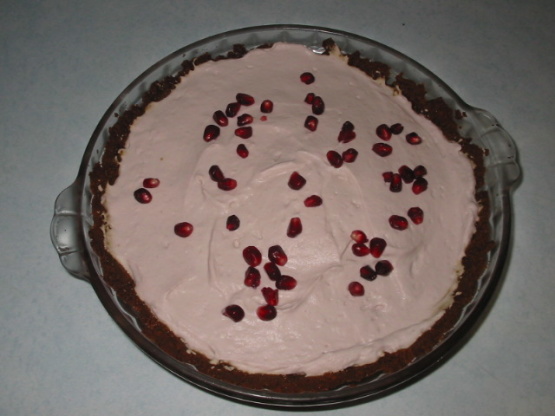 make this dessert in the morning and it will be ready for dessert after dinner. you can also make this a day in advance. the cooking time reflects the refrigeration time.

Top Review by Ducky
Very pretty pie with a nice subtle taste. And the pomegranate seeds pack nice little bursts of flavor. I first saw this recipe in Family Circle magazine and tried it with less than stellar results. I had problems with the crust - it had to be reformed when taking it out of the oven, which was not expected. Cooling the crust will harden it, baking it longer will only burn it. Then I could not get the second layer to gel to the consistency of raw egg whites before I had to leave for Thanksgiving dinner (I had waited 2-3 hours). Well, I couldn't let the recipe defeat me so I had to try again. Got through the crust okay. However, for me, 15 minutes in the refrigerator for the bottom layer was not nearly long enough to get it to begin to gel. It ended up being more like 30-45 minutes. The top layer went without a problem though. I garnished with seeds and lime zest. The taste was much more subtle than expected but very nice. This isn't difficult to make; it just takes a long time. Thanks.
preheat the oven to 350.
for crust:.
mix cookie crumbs, melted butter and salt in a bowl.
press into bottom and up the sides of a pie plate.
bake for 12 minutes until browned, remove and place on a wire rack to cool.
bottom layer:.
in a small saucepan mix sugar and gelatin together.
add the juices and zest and heat over medium until dissolved, about 5 minutes.
refrigerate for 15 mniutes.
stir in pomegranate seeds and pour into pie crust.
refrigerate for 45 minutes.
top layer:.
in a small glass bowl sprinkle gelatin over 1/4 c pomegranate juice.
let it stand 5 minutes to soften, then heat in a microwave for 20 seconds until softened.
meanwhile beat cream and sugar with an electric mixer until soft peaks form.
slowly add cooled pomegranate mixture, beat until stiff peaks form.
remove the pie from the refrigerator and add whipped cream over bottom layer.
garnish with lime zest and pomegranate seeds.
refrigerate 2 hours or until firm enough to slice.