JustJanS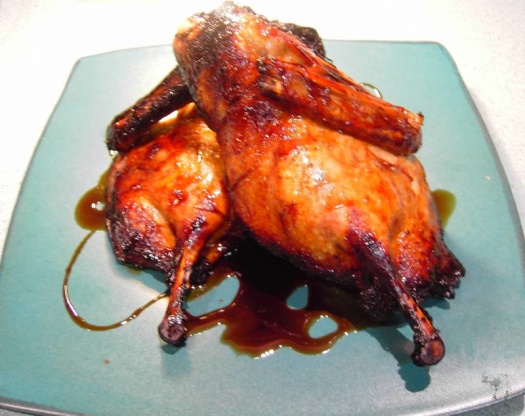 I made a quail recipe similar to this-but tonight I had a duck. We served this over rice with stir-fried vegetables.

I thought this recipe was delicious , my first time cooking duck so almost cooked too long but fantastic taste
Cut the duck in half, through the backbone and breast, using kitchen sissors.
Mix the remaining ingredients together and marinate the duck for at least 2 hours.
Strain and reserve the marinade.
Pre-heat your oven to 170c and cook the duck for 1 1/2 hours.
Increase the oven temperature to 200c for a further 10 minutes or until the duck skin is crisp and brown.
Place the marinade in a small saucepan bring to the boil and cook over a high heat for about 10 minutes or until reduced by half.
Remove the duck and allow to rest for about 10 minutes before cutting the halves in half.
Serve with a little of the reduced marinade poured over.