Pomegranate Cocktail With Sparkling Wine

This recipe was featured in a magazine spread about the Canadian designer Sarah Richardson, it is apparently one of her favorite drinks to serve. We made it for New Years last night and it will not be the last time this drink runs accross our flutes
16 ounces pomegranate juice, 2 oz per flute (make sure you use real 100% pomegranate juice)
8 ounces Cointreau liqueur, 1 oz per flute
1 orange, strips of zest
750 ml sparkling wine (one bottle) or 750 ml champagne (one bottle)
Directions
Place zest in champagne flutes.
Add pomegranate juice and Cointreau.
Fill glasses with sparking wine or champagne.
Garnish with pomegranate seeds.
Most Helpful
This is absolutely fabulous and festive! I made this for my girlfriend's birthday and she really enjoyed it. I can't wait to serve this at my next holiday (Thanksgiving?) as well. Thanks for sharing!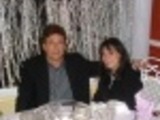 I was making a couple different pomegranate drinks tonight and this was my last one I tried. Love the bubbles they kept bubbling up off the orange zest. I had a mini bottle of champagne, so it worked perfect for a cocktail for one. Made for ZWT7- Italy

So good! I made for one and wanted more.......... The seeds got lost in the drink. Thanks made for ZWT 2011