Rita1652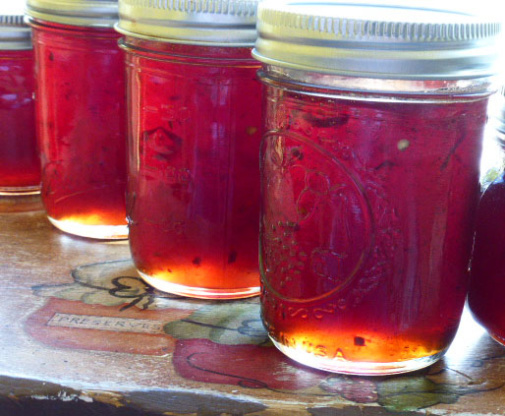 This Vibrant Spicy jelly is made with a mix of three chili's bring this to a HOT heat level. You can use all three or play with what chili's you get a hold of. Serve on cream cheese with crackers or alongside meat. Blend some into a salad dressing. Place some in a shaker with citrus vodka for a yummy spicy martini. Or add to a margarita for a nice kick.
4 1⁄4 cups pomegranate juice, 100% organic no sugar added
1⁄4 cup lemon juice

6

cups sugar

3

fresh red cayenne chilies, deseeded if you want

2

fresh red jalapeno chilies, deseeded if you want

2

fresh red scorpion chilies, deseeded if you want
1⁄2 of a 6 ounce package 1 foil pouch pectin
Sterilize the jars and lids. Prepare the water canner.
Place the chilies into a blender or food processor and puree them with 1/2 cup of juice.
1. (be careful of your eyes HOT FUMES).
Combine all ingredients but pectin in a large pot.
Bring to a boil and boil for 10 minutes stirring constantly.
Stir in pectin stirring while boiling hard for 1 minute.
Remove from stove and skim foam.
Ladle hot jelly into clean hot jars, leaving 1/4 inch head space.
Adjust caps Process 10 minutes in boiling water canner.