gothchef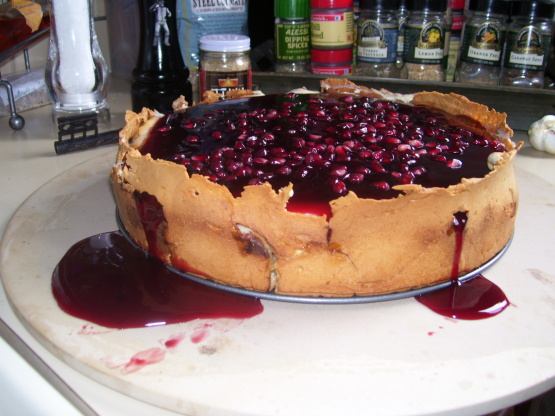 This is a delicious and beautiful dessert that is perfect for holidays and special occasions. It also makes a very romantic dish! It is from Better Homes and Gardens magazine.

my family loved this cheesecake. i prefer a more dense cheesecake, but i LOVED the crust on this and will use the crust recipe on other cheesecakes i make. it baked perfectly in the time it stated and looked absolutely gorgeous. the sauce was probably my favorite part with a very intense flavor from reducing the juice. i used a pomegranate - blueberry juice as that is all i could find at the store. it took longer to reduce than the time stated (i think i was "simmering" and not "gently boiling") but i measured the juice to make sure it had reduced to 1 C. before moving on. my husband says that i must make this again, he is requesting it for his birthday. thanks for posting!
Prep: 50 minutes.
Bake: 1 hour, 25 minutes.
Cool: 2 hours.
Chill: 4 hours.
Prepare Pomegranate Sauce.
Preheat oven to 350°F In a mixing bowl beat butter on medium to high speed for 30 seconds. Add brown sugar. Beat until combined. Add 1 egg; beat well. Beat in 1 1/4 cups flour until combined. Divide dough in half. Cover and refrigerate one portion.
Spread unrefrigerated dough half on bottom of ungreased 10-inch springform pan with sides removed, spreading dough to edges. Place on baking sheet. Bake for 10 minutes. Cool completely. When cool, attach sides of pan. Press chilled dough onto sides to a height of 1 3/4 inches, using a thin metal spatula to spread dough.
Reduce oven temperature to 325°F For filling, in an extra large mixing bowl beat cream cheese and 1 1/4 cups granulated sugar until fluffy. Beat in the remaining flour on low speed until smooth. Add remaining 3 eggs and 1 tablespoon vanilla all at once, beating on low speed just until combined. Stir in 1/2 cup sour cream, the lemon peel, and 3/4 cup of the pomegranate seeds.
Pour filling into crust-lined pan. Place on baking sheet. Bake for 65 minutes or until edges are puffed and center jiggles slightly when gently shaken. Remove from oven.
Stir together remaining sour cream, sugar, and vanilla. Spread sour cream mixture over top of baked cheesecake. Return to oven; bake for 10 minutes more. Remove from oven. Cool on wire rack for 15 minutes. Loosen crust from sides of pan. Cool for 30 minutes more. Remove sides of pan; cool completely. Cover; chill 4 hours or overnight.
Remove cheesecake and Pomegranate Sauce from refrigerator 15 minutes before serving. Spoon some sauce over top of cheesecake; pile remaining 3/4 cup pomegranate seeds in center of cheesecake. To serve, slice cheesecake. Pass remaining sauce.
*TIP* Spoon sour cream mixture on the puffed edges, then carefully spread toward the center.
EACH SERVING WITH SAUCE: 490 cal, 33 g fat (20 g sat. fat), 143 mg chol, 246 mg sodium, 42 g carbo, 8 g pro. Daily Values: 24% vit. A, 6% vit. C, 9% calcium. 10% iron.
Pomegranate Sauce (start to finish: 18 min).
In a saucepan bring pomegranate juice to boiling. Reduce heat, boil gently, uncovered, until reduced to 1 cup (10-12 minutes. Stir together brown sugar and cornstarch; add to juice. Cook and stir until thickened and bubbly. Cook and stir 2 minutes more. Transfer to bowl; cover surface with clear plastic wrap. Cool to room temperature. Store, covered, in refrigerator until serving. Use to top Pomegranate Cheesecake.
EACH SERVING: 33 cal, 3 mg sodium, 8 g carbo. Daill values: 5% vit. C, 1% iron.