I've recently been introduced to pomegranate juice and adore it in mixed drinks. It's both sweet and tangy and has adds a wonderful colour
Directions
Add all ingredients to a shaker including the crushed ice or icecubes.
Shake well and serve.
Reviews
Most Helpful
I followed Rita's advice and added a touch of lime juice....delicious! I think I'll really enjoy this in the summer....a little cold right now to sit out on the deck and enjoy....but delicious none the less! Perfect for sitting in front of the computer picking out recipes! Made for Best of 2010 Tag game! Thanks for sharing.

Not only is the pomegranate juice sweet, tangy, and colorful, it's a great antioxidant! Makes this a healthy and delicious cocktail! Thanks, Jubes! Made for Unrulies Under the Influence, ZWT6.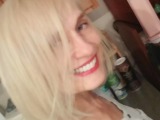 Made me dangerously close to losing my sense of humor. Made for A-NZ Reunion Recipe Tag.

Holiday Central >