Pomegranate Blueberry Freeze
Directions
In blender, mix yogurt, blueberries, juice and honey until smooth.
If desired, garnish with fresh blueberries.
Enjoy!
Most Helpful
Delicious and healthy!! You can't beat that combination. Although I love the recipe as is, I think it would still be wonderful without adding the honey - which is what I'm going to try the next time. And, oh yes, there WILL be a next time. :) Thank you!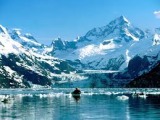 Beyond yummy! Followed the directions and measurements exactly. What a wonderful breakfast treat, so creamy and fruity. DH approved also and he is not into anything in the morning. Thanks!!