Polynesian Meatballs (For Party Trays)
Rita1652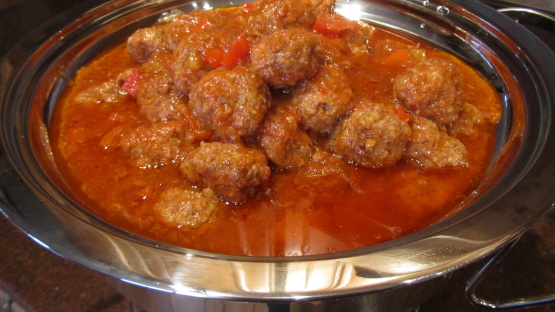 This is a repeat status recipe. I fix them mostly for my grown son's parties now, and they are the first item to go. Especially in demand during the Holiday Season. An old Southern Living recipe.

Thanks for these tasty meatballs. They go far. I used veal, pork and beef mixture (4 pounds)for these meatballs. Using my Recipe #461723 Mock pineapple, using oatmeal for the cornflakes. Skipped the honey and cut back on the sugar. Added 1 diced red bell pepper.
Meatballs:.
Preheat oven to 450 degrees. Combine all ingredients in a large bowel, mixing well. Shape mixture into 1-inch meatballs. Place on a rack in a shallow baking pan. Bake 12 to 15 minutes or until brown.
Sauce:.
Mix together all ingredients except pineapple in a large saucepan over medium-high heat. Bring to a boil; reduce heat to medium and simmer 10 minutes. Stir in pineapple. Spoon meatballs into sauce, stirring until well cooked. Continue to cook 19 to 15 minutes or until heated through. Serve hot.
Should yield 75 meatballs.