Polvorones (Mexican Wedding Cakes)
Pam-I-Am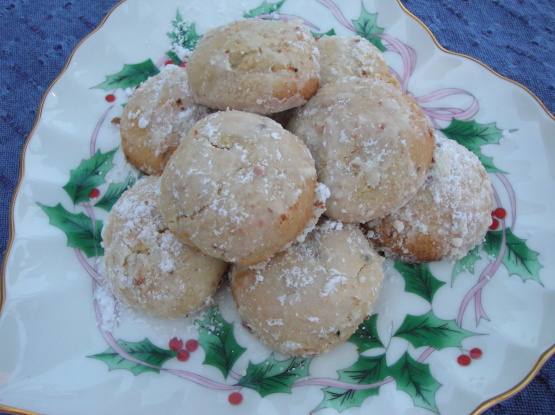 These taste very rich and buttery! I've included the chilling time in the prep time.

These are so easy to make and taste terrific. I am use to having pecans in these type of cookies, but really enjoy the flavor of the walnuts. I also love this cookie for the almond flavoring. Reminds me of these little Danish cookies. I baked the first batch at the 15 minutes recommended and they were just on the edge of burning. So the 2nd batch I baked as 12 minutes and they came out perfect.
In a large mixing bowl beat margarine'til softened.
Add sugar; beat'til fluffy.
Stir in flour, nuts and a dash of salt.
Cover; chill 1 hour.
Heat oven to 350 degrees.
Shape dough into 1" balls.
Bake on ungreased cookie sheet for 15 minutes or until lightly browned.
Cool on cookie sheet for 5 minutes; remove and roll in powdered sugar.
Let cool completely and roll again in powdered sugar.