Polpettine Alla Griglia (Sicilian Lemon Grilled Meatballs)
gemini08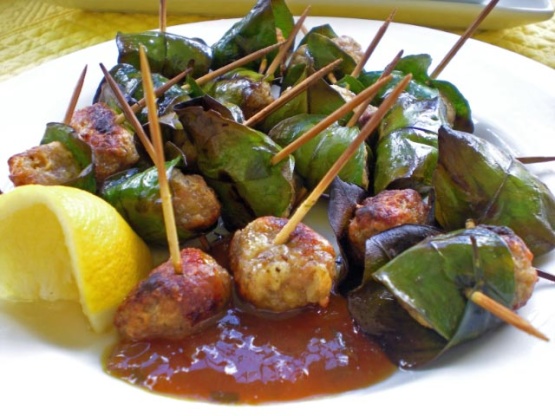 Taken from here = http://www.zonefresh.com.au/component/content/51?task=view uploaded to keep and to share. If you're in Brisbane I highly recommend checking out the link above, the shop has some super yummy things :) Quantity and Time are estimates only, I haven't had a chance to try it out yet.

This is a delicious little appetizer! I have a calamondin citrus tree so when I first read the recipe I loved the idea of wrapping the leaves around little meatballs. I was not sure though when reading the recipe if the leaves might be edible after being grilled, well, unfortunately, they are not! The removing of the leaves is a bit tedious, besides, the meatballs needed a dipping sauce, they are a tad dry on it's own. All in all, this was a tasty and unusual treat, thanks for posting! Made for "My 3 Chefs" tag game; June 2012.
1

kg ground pork or 1 kg veal

125

g ground pecorino siciliano cheese

236.59

ml breadcrumbs, soaked 3 minutes in milk and the excess squeezed out

3

eggs

29.58

ml minced parsley

1

garlic clove, minced
salt & freshly ground black pepper
organically grown lemons or orange leaves, rubbed with olive oil

Optional

grated lemon zest or lemons or orange juice
Combine all the ingredients except the leaves, and make many slightly flattened meatballs small enough that you can wrap each in a leaf (use a toothpicks or skewers to keep them rolled).
Grill the meatballs until done and squeeze with lemon before serving. (The leaves are not edible, so you may wish to wrap the leaves in a manner that will be quick to unwrap.).