Pollo Pendejo (Foolproof Chicken)
Prep 30 mins
Cook 20 mins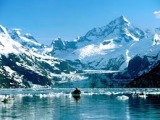 The literal interpretation for this recipe is "idiot chicken", because it's really difficult to mess up. Marinated in a sauce and then cooked in beer, the chicken is almost guaranteed to come out moist and juicy (unless you reallllllllly overcook it). You could serve this with buttered noodles, mashed potatoes or rice. Add a salad and call it a complete meal! Recipe courtesy of Ingrid Hoffmann.
Directions
Put the adobo and Worcestershire sauce in a large resealable bag. Add the chicken pieces and turn to coat. Refrigerate for at least 30 minutes or overnight.
Heat the oil and butter in a large skillet over medium-high heat. Once the butter has melted, add the onion and garlic. Reduce the heat to medium and cook, stirring, until the onion is soft and starts to brown, about 5 minutes.
Remove the chicken from the marinade and reserve the leftover marinade. Pat the chicken dry with paper towels. Add the chicken to the skillet and cook until it browned on all sides, about 10 minutes. Add the reserved marinating liquid, the beer and the mushrooms. Bring to a simmer and cook until the sauce is thick with the consistency of heavy crream, about 15 minutes or so. Remove from the heat and serve.
Reviews
Most Helpful
Delicious chicken dish! Served with True Brazilian Rice, this made a lovely dinner. I didn't have a light beer, but it was still yummy with the beer I found to use. DH and DS scarfed their dinner down, so I can only say 'Thank You' to LifeIsGood, for sharing a dish that my family really enjoyed!

This was a really good chicken recipe, easy to prepare and can be prepared in advance.<br/>Today I prepared several dishes and for this reason I placed the ready dish at 70°C until I finished the other dishes.<br/>For decoration and color I added greeen onion and red bell pepper slices at the top. <br/>Thanks a lot for posting this recipe, we enjoyed it very much and I can recommend this recipe.<br/>Made for Culinary Quest 2014.

Yes, very easy and very good, we enjoyed this!!! I used Adobo Seasoning, and had to go on a hunt for Mexican beer, (Corona), which I did find at a large liquor store. I served this with penne pasta and we thoroughly enjoyed it. Made for ZWT 8. Since I still have 5 bottles of Corona, I'm pretty sure we'll be enjoying this again!!! Thank you, LIG!