awalde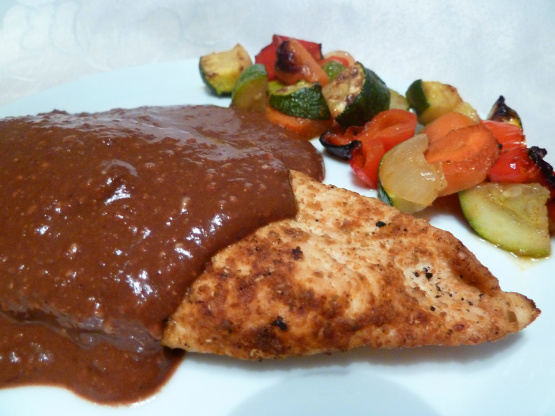 Recipe is from the La Cocina de Taos Restaurant in business since the 1950's. The recipe says it is alot of fun to put together, but also warns not to leave any of the ingredients out. The ingredients for this mole sauce are made in the blender and then heated.

Top Review by awalde
Nancy I'm really glad I found you recipe. My children were very surprise with the combination chicken and chocolate and they loved it!
I used powdered unsweetened cacoa and chile paste (I did not have the dry one).
For the paste preparation I placed the chopped ingredients in a high plastic bowl and I used the blender. It s was easy and fast.
I did hot have whole chicken and I used breasts which I broiled while I was broiling the vegetables.
I also placed one breast (in 1 inch pieces) in the sauce to see how it would be if I wood cook it directly in the sauce: it was delicious and jucy as well.
I served it with broiled mixed vegetables which I had at home, simply coated with olive oil, Recipe #456146 and some salt.
We had Recipe #254008 which was delicious with the sauce.
Thanks a lot again for this fantastic dinner!
In a medium bowl place the red chile powder, sesame seeds, almonds, crushed tortilla, raisins, garlic, anise seeds, cinnamon, cloves, coriander, tomatoes, salt, peppercorns, and 2 cups of the chicken stock. Mix the ingredients together and pour them into a blender. Puree the mixture until it is a thick paste.
Place the other 3 cups of chicken stock in a medium large sauce pan and heat it. While stirring constantly, gradually add the blended paste. Bring the sauce to a boil. Reduce the heat and add the chocolate. Simmer the sauce until the chocolate has melted and a thick gravy is formed.
In a large saucepan, half filled with boiling water, place the chicken. Reduce the heat, cover and simmer the chicken for 15 minutes. Broil the chicken 5-10 minutes on each side or until it is nicely browned. Serve it with the sauce.