diner524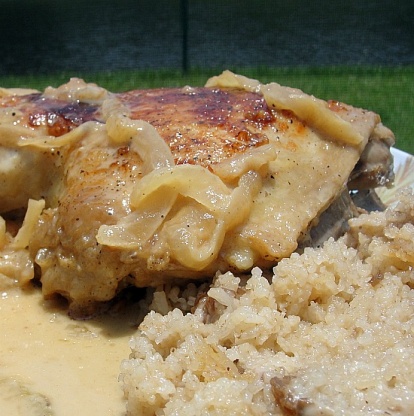 Chicken smothered with onions, or pollo encebollado, is a popular homestyle dish throughout Central America. It's an incredibly easy dish to make and full of flavor. This is found on most Central American restaurant menus.

this recipe is delicious. I have ben cooking it since i was a kid, with my mom. this recipe is not from central america nor colombian solely. we are from Cuba. My mother says her grandmother use to do this all the time. I think its a Hispanic dish. Which the Spainird probably took it all over the Americas, when they went conquering.
2 1⁄2-3 lbs chicken, cut into serving pieces
salt and pepper, to taste

3

tablespoons oil

3

onions, sliced thinly

1

cup water or 1 cup stock
1⁄2 cup white wine

1

bay leaf
salt and pepper, as needed
Season the chicken pieces with salt and pepper. Heat the oil in a large sauté pan or pot over medium-high flame.
Working in batches, brown the chicken pieces in the hot oil and remove to a plate.
Pour off all but 2-3 tablespoons of oil and add the onions to the same pan. Reduce heat to medium-low and sauté until cooked down and just beginning to brown, 10-15 minutes.
Increase heat to medium-high and return the chicken pieces to the pot. Add the water or stock, wine, bay leaf, salt and pepper and bring to a boil. Reduce heat to low and simmer, covered, for 25-35 minutes, or until the chicken is cooked through and tender.
Adjust seasoning and serve with rice.