Pollo En Mole (Chicken in Mole Sauce)
flower7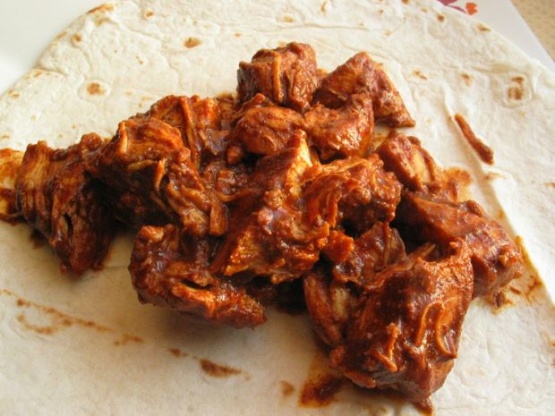 A chicken dish from the Yucatan Peninsula of Mexico. I found it on a website stating that it came from a family in Cancun.

this is an amazingly simple recipe and tastes great! it was my husband's first time having mole (and my hundredth) and he absolutely loved it. i added a lot more chocolate and doubled the recipe because i like a lot of sauce (i serve it over rice). i'm going to use it to make mole enchiladas tonight. thanks for sharing.
Wash chicken and cut into large chunks.
Place in a pot with enough water to cover the chicken and bring to a boil.
Reduce heat and simmer on medium for about 15 minutes.
Remove all of the broth and add back 1 cup of that broth to the pot.
Mix together the peanut butter, chocolate syrup, chili powder, tomato sauce, cloves, cinnamon, paprika and salt in a bowl and then add to the pot. Mix well.
Bring to a boil, then reduce heat to medium and cook for about 30 minutes.
Serve with warm tortillas.