Pollo Con Salsa Verde (Chicken With Green Sauce)
AshK5246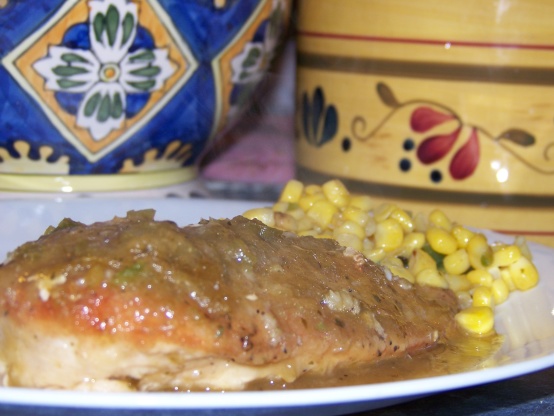 I love salsa verde, so this is one of the ways that I like to prepare chicken. This dish serves up great with Spanish rice, and a green salad.

2009 fantastic chicken dish...i added a 10oz can of ortega diced green chilis to give the sauce some chunk and i used 4 cloves of garlic...i combined the salsa, broth, garlic, green chilies, way more cilantro (almost a half a cup) jalepeno & the cumin and didnt bother to take the chicken out of the pan, just poured the broth mixture around the pan. also, i didnt have sour cream but had some crema fresca left from fajita night so a dolup of that went on each piece...loved it! 03/25/10 i make this all the time & everyone LOVES it. i've even started chopping the chicken up before dusting with flour and cooking it in small pieces to use in burritos & tostadas.
Sprinkle the chicken with salt and black pepper to taste.
Dredge both sides of chicken through the flour, shaking off excess.
Melt the butter over med heat in a large heavy bottomed pot.
Add the chicken and cook over med-high heat turning once, until both sides are well browned, but chicken is not quite cooked through (about 6-7 minutes per side).
Remove chicken from the pot and keep warm.
Pour the chicken broth into the pot and scrape up any browned bits from the bottom of the pot.
Place the green salsa, garlic, jalapeño, cilantro, and cumin into the pot; bring to a boil.
Just as the sauce begins to boil, reduce the heat to obtain a slow simmer. Add the chicken breasts back into the sauce and spoon sauce over each piece of chicken.
Continue to cook until chicken is cooked through and tender (about 15 minutes).
Taste the sauce and add more salt and pepper if desired.
Place chicken on a serving platter and spoon sauce over each piece.
Top each piece of chicken with a heaping tablespoon of sour cream and sprinkle some chopped green onion over the sour cream.