Pollo Al Ajillo - Garlic Chicken. Yummy
loof751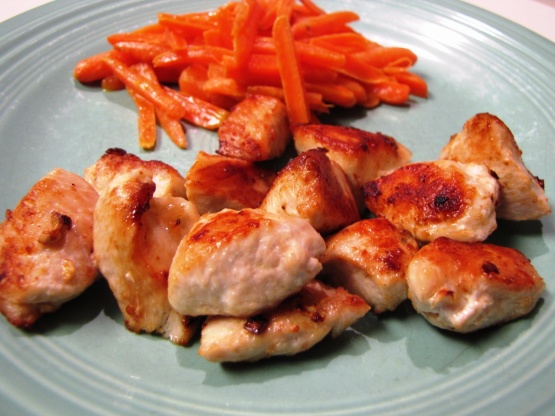 This is so goood. golden brown crispy pieces of chicken with loads of garlic flavor. The only real work with this recipe is to either cut the chicken yourself into 2 inch pieces or have your butcher do it (my way :)). For this recipie you need to use the biggest frying pan you have, so all the chicken pieces fit in one layer. If you don't have a big enough frying pan you will need to use two simultaneusly. Serve with fries for a great meal. I found this in Notes from Spain: www.notesfromspain.com

This was an easy to make, delicious meal. The white wine turned out to be delicious with this. I would definitely make this again.
1

(1 1/2 kg) whole chickens (either a whole chicken cut in to 4 cm/2 inch pieces or thighs and legs chopped separately)

1

teaspoon salt

1

glass white wine (optional)
Start by peeling the garlic cloves and slicing them roughly.
Ppour olive oil until the bottom of the frying pan is covered and wait until it just starts to smoke. While you wait you can add salt to all the chicken bits.
Then add all the garlic pieces and just when they start to brown add the chicken, inserting the bay leaves in between.
You will need to cook it for aproximately 30 minutes or until all the pieces are crispy and brown, taking care to turn the pieces over so they get equally brown all over.
If you want to have a bit of sauce, towards the end of the cooking lower the heat to minimum, remove the excess oil from the frying pan and add a glass of white wine. Cook for another 5 minutes and serve.