loof751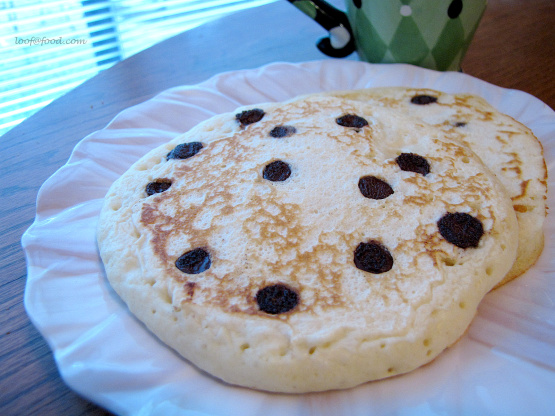 This is a breakfast I make a few times a week for my husband and our 5 kids. When you have as many to feed in the morning as I do (and some are very picky), it's nice to find a recipe that makes a lot, is good for you and tastes great! These fluffy pancakes are very versatile. The "polka dot" part is simple to make by adding chocolate chips, blackberries, blueberries, raspberries, or anything else that looks like "polka dots". We even have these for dinner sometimes with bacon and eggs. Using the whole wheat flour adds an excellent flavor and extra nutrition too. Enjoy!
In a large mixing bowl stir together flour, sugar, baking powder, and salt.
In another mixing bowl combine eggs, milk, melted butter and vanilla.
Add to flour mixture all at once.
Stir mixture just till blended but still slightly lumpy.
Pour 1/4 cup batter onto a hot, lightly greased griddle.
Sprinkle top with desired amount of chocolate chips or berries to make"polka dots".
Cook till pancakes are golden brown, turning to cook second sides when pancakes have bubbly surfaces and slightly dry edges.