YaYa1689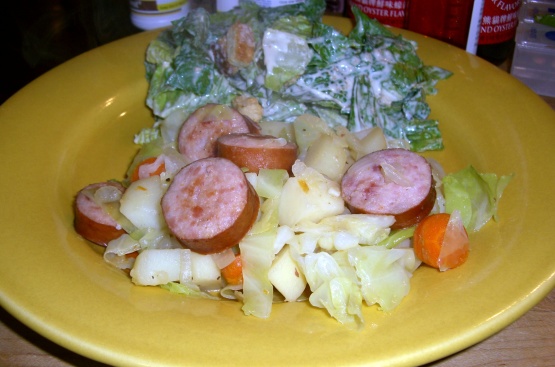 Growing up in the multi-ethnic steel towns outside Pittsburgh, PA produced some very interesting and deliciously unexpected combinations of foods and cooking techniques. This is what happens when a pantry full of Polish staples collides with the stir-fry technique. I first saw it at a church pot-luck dinner and have made it many times.
Lightly grease big, iron skillet (I like to use my chicken fryer), with canola oil.
Brown the Kielbasa. Take it out and put it aside. Drain excess grease.
Fry potatoes and carrots, stirring often, until half-cooked.
Add onion and keep frying, stirring frequently.
When the onion is half-cooked, add the cabbage and continue until everything is completely cooked.
Return Kielbasa to the pan, mix well, and serve once it is reheated.
This dish travels well and reheats well.