lazyme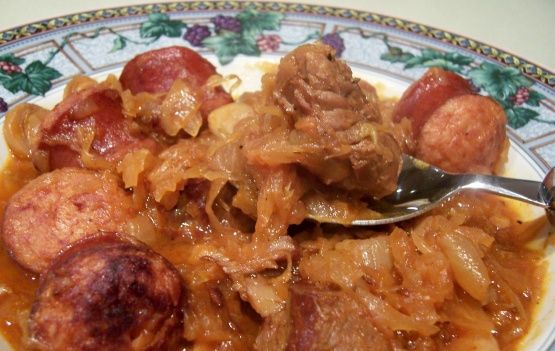 Top Review by lazyme
The taste of this stew was good, but I felt it needed more liquid. After stirring this a couple of times, I added some water because it was starting to stick to the pan. I would guess that more tomato sauce and a broth would be better choices so that it wouldn't dilute the delicate seasonings. The sausage was especially good with the caraway seeds. Thanks Mimi.
Sauté sausage 15 minutes; remove to casserole.
Add oil to sausage drippings; brown beef in oil, 15 minutes; remove to casserole.
Sauté onion; add to casserole.
Sauté mushrooms with sauerkraut and wine.
Add tomato sauce, soy sauce, caraway seeds and vegetable seasoning.
Add this to casserole also, mixing well.
Cover and bake at 375°F for 2 to 2 1/2 hours.
Stir casserole every 30 minutes.
Or cook in crock pot on high heat for 4 hours.